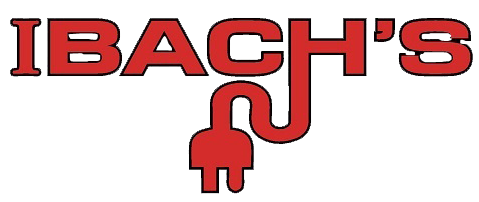 Residential * Commercial * Industrial
We are Ibach's Electrical Services contractor. We do all types of wiring for over 30 years.
IBACH'S Electrical Services
has served the entire Lancaster area for over thirty years. Our expertise in residential, commercial, and industrial wiring is second to none. We offer a full-range of electrical services to accommodate the full spectrum of our customers' needs.
All of your electrical needs including:
3-phase wiring
Upgrades of service
Pool and hot tub wiring
Wiring for new additions
Rewiring of older homes
Recessed / LED Lighting
Central vacuum systems
Panel upgrades for more power to handle air conditioners
Meter upgrades
Electric for additions appliance circuits, GFI, etc.
Kitchen remodeling
Exhaust fan installation
Older house rewiring
24-hour emergency service
Track lighting installation

We don't cut corners. We take pride in our work. Even though wires are hidden behind drywall, we take care to run straight clean wire. Our quality workmanship is never compromised! We are licensed, insured and work with permits when necessary.
24 Hour Emergency Support
IBACH'S Electrical Services
family owned since 1977
Covering all of your electrical needs for the entire Lancaster County area including Lititz, Ephrata, Manheim Township, and we also work near Lancaster, York, Lebanon, Berks, Chester, etc.
Panel upgrades for more power to handle air conditioners
Electric for Additions Appliance circuits, GFI, etc.
Kitchen Remodeling, Exhaust Fan Installation
Quality work, Insured
Rewire your old house. We will get dirty.
Fully insured HIC-PA 010947
24 Hour Emergency Support
Prevent Mold And Mildew
Install A New Fan
We Specialize In Older Homes
We Can Install Track Lighting For Your Store